Six juniors compete in Distinguished Young Woman Program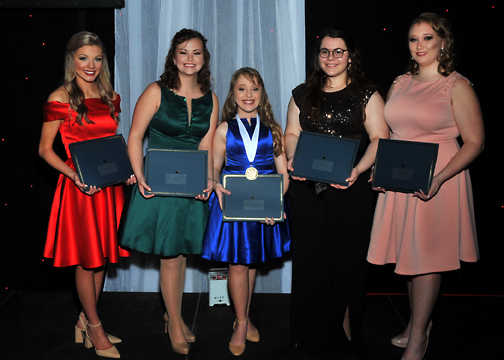 On Saturday March 6, six young women from George County competed in Distinguished Young Women. Distinguished Young Women is a national scholarship program that is to help inspire young high school girls to develop their full potential through a fun, transformative experience and showcase their personal accomplishments.6 
   This year junior Lindee Wilson received the talent award, the scholastic award and overall for DYW. For her this was such a learning experience. 
   ¨The biggest thing I took away from the program was forming opinions on the media networking. I did not really watch the news before but now I know all about current events it really has helped me blossom as a person because I do vote in a year." Wilson said. 
   She really enjoyed the practices even though it was a little long; it definitely was one of her favorite parts being that she gained more of a bond with the other girls. This was not Wilson's first time competing; she herself was a little sister in last year's program for Raely Langston. This year Wilson´s little sister was sophomore Dayleigh Howell. 
   Receiving First Alternate, the essay award, the self expression award and the interview award was junior Katie Havard. Havard was completely overjoyed with emotions but also extremely proud of herself. She was really interested in DYW with it being a scholarship program. 
   ¨I still really enjoyed all the interviewing skills and the public skills.¨ Havard said.
   Also, receiving the second alternate Carly Charbonnet was happy and so excited about the scholarship funds she received from the program. 
   After all the hard work these ladies will always have the lessons they learned in their life.