National Diabetes Awareness Month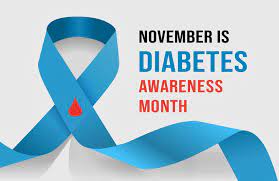 The month of November is National Diabetes Awareness Month to bring attention to diabetes and its impact on millions of Americans. In 1922 insulin was discovered by Fredrick Banting so his birthday, November 14, was named National Diabetes Awareness Day. 
   People can have one of the two different types of diabetes which are type 1 and type 2. Type 1 diabetes is a genetic condition that often shows up early in life, especially in teenagers, and Type 2 is mainly lifestyle-related and develops over time.
   Currently at the high school there are a few students that are type 1 diabetics. 
   "I'm Ben Wallace. I'm type 1 diabetic and I have been diagnosed for seven years this December, " freshman Ben Wallace said. 
   Adding to all the typical pressures of being either type of diabetic, for both teacher and students being at school can be one of the biggest challenges. 
   "Sometimes, when I first found out I was diabetic I had a lot of trouble regulating my insulin and my medicines. So I did pass out a couple times in class," Type 2 teacher Jeanine Sosa said.
   As a student the scenarios when experiencing a sugar low or high are a little different than for a teacher. 
   "I get a little weak, my mind starts running, I can't really focus on the task, it all really just affects my performance overall," Wallace said. 
   Along with that challenge, comes doctors appointments which affect school schedules and attendance. These appointments are made with their endocrinologist who is a diabetes specialist.
   To show your awareness this month you can wear blue to advocate and bring awareness for diabetes and the people living with it.