Mountain biking now offered to students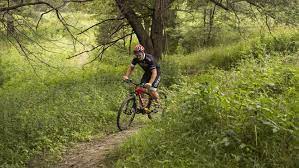 A new outdoor recreation club is now offered to students here at the high school.
   The nature trails around the school on the 16th section land that is used for riding have a lot of native wildlife; one of the species are box turtles which brought about the club's unique name. 
   The idea and purpose of The Box Turtle Mountain Bike Club was founded by assistant CTE director Morgan Dean. 
   "So I like doing stuff outside. I like doing outdoor recreations non hunting so one of the things I have done in the past is gone mountain biking, climbing, canoeing, hiking and camping. I like doing all of that so when I saw the forest out here I thought that it was kind of a natural setting and I wanted to expose our students to something they may not be exposed to very often," Dean said.
     Before the club had officially started Dean worked with Blue Cross Blue Shield Association to receive a grant to help purchase the proper bikes needed to ride. The grant allowed the club 30 bikes so far. 
   The trails that the club ride on now were made by the school's CTE Forestry program. As of now, the club rides an 18 minute trail and will have more trails coming up soon.
   "As this grows and more interest is shown we will be going further afield," Dean said.
   When all the trails are successfully completed, they hope to have around four miles to bike. 
   Every Wednesday the club offers "Wednesday Free Rides" allowing interested students to take part in a ride through the forest. The only requirement is for each rider to have a little riding experience first. Before hitting the trails, the bikers ride around on the flat grounded area in the back to make sure everyone is ready. A signed parent permission form is also needed before participating.
   "I would like to add a special thanks to our construction department in the CTE program. Mr. Josh Spears and his team have done a great job helping us do some remodeling out at the barns," Dean said.