Say Something speaks to students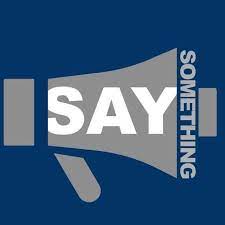 Human trafficking, drugs and suicide were main topics the Say Something assembly encouraged students to speak up about during the rally held this past Monday.
   According to sophomore T.J. Love the Say Something presentation was very heartwarming and enlightening to see what goes on behind closed doors.
   Speakers Andrew Dawson and Leah Daughdrill told the students about their personal battles. 
   The Say Something speakers seemed to truly connect with the students. 
   "It showed me I wasn't alone in my headspace," junior Kadence Ford said.
   The results of a study called the BBC Loneliness Experiment were shown on newportacedemy.com. The purpose of the survey was to bring attention to the loneliness in teens and adolecents. The experiment showed that out of 55,000 people 16-24 year olds often felt more lonely.
   "I don't like to see other people suffering in pain… just stop the bullying. Be a good person in general," Love said.  
   According to Dawson, Say Something's mission is to help students with the difficult situations that they are facing. 
  Jody Dyess, the director of Say Something, launched the organization in 2012, but it was only noticed in 2013. In seven days they visited 41 schools, had 57 events, and reached 38,000 students. Last week's Say Something assembly was sponsored by the Mississippi Highway Patrol.
   The Say Something speakers emphazied how important it is to speak up about the topics students may face.
   "The only reason I made it through what I was going through is because of my friends. I talked to them about it and they really did help me out of that dark place I was in," Ford said. 
   The Say Something Assembly will continue their journey through the nation to talk to students about battles they may be facing.