Heart month brings awareness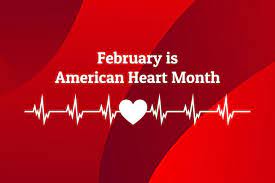 February is the designated month in the United States where the nation comes together igniting a wave of red coast-to-coast to celebrate American Heart Month. 
   There are many types of heart diseases that people are diagnosed with. Some examples of commonly diagnosed heart diseases in the United States are heart attacks, valve diseases, and inherited diseases. 
   Common heart diseases for childhood diagnoses are rheumatic heart disease and Kawasaki disease. However, the most common heart conditions for adults are strokes and heart attacks which affect hundreds of thousands across the United States.According to the Centers for Disease Control, every year about 805,000 people in the United States have a heart attack. 
   Although many diseases can be diagnosed, this does not mean they are all caught and diagnosed in time. Many diseases are inherited and people can live their whole lives not knowing. 
   This is a problem because it can later result in death due to overstrain of the heart by activities or stress that a normal non-diseased person could handle. However, there are actions being taken to help cushion the number of deaths and help aid the recovery of the people affected.
   The American Heart Association states that access to cardiovascular rehab programs increases.
  This is a nationwide issue stretching from George County High school students and their families all the way to NFL players. About 692,000 people in the United States died from heart disease in 2020 that is one in every five deaths, according to the CDC.
   A recent event that made people realize the importance and severity of heart awareness was Buffalo Bills Damar Hamlin suffering cardiac arrest on the field during the January Monday night NFL game. 
    His heartbeat was restored on the field and he was transferred to the UC Medical Center for further testing and treatment, according to NBC News.
   Although cardiovascular issues and death occur worldwide it affects George County High School students just as much. Some of the students' everyday lives revolve around their heart diseases which then also affects their families, friends, and grades.  
    Junior Kayla Maples suffers from a heart condition that affects her life not as drastically now that she's older but when she was young her first moments of being alive were spent in a neonatal intensive care unit (NICU). Maples spent five days in the NICU before the doctors discovered that the bottom half of her body was not getting blood flow. 
   Her condition is known as Coarctation. Maple´s doctors had to take a portion of her aorta and placed her on blood pressure medicines, and eventually had to have a stint put in to hold open the aorta. Now she cannot lift heavy weights because it might affect the stint. Even though her meds are used to help her they also hurt her. 
   ¨ My medications made me develop kidney stones so I had to have a lithotrispy,¨ Maples said 
   Freshman Kellum Fairley suffers from having an enlarged heart with high blood pressure while being a high school student. His condition has not been there his entire life but was just diagnosed two months ago. His condition affects his passions which are sports. 
   ¨ It hurts my life because I cannot play sports without being cleared by my doctor now,¨ Fairley said.
   Freshman Jenna Watson´s condition affects her grades and school attendance. She has not been able to receive a formal diagnosis from her doctor. Watson has had the condition since she was a small child, but as she gets older it is worsening. 
   ¨ I have to get checked out twice a week during my lunch block to go to therapy to build stamina back up in my heart,¨ Watson said 
   Cardiac diseases and illnesses are serious and can be life-threatening to hundreds of thousands across the country coast to coast. However, there are protocols that people can follow to save lives. CPR is one of the most common and effective protocols that a person can use if a heart attack, stroke, or any other life-threatening problem occurs. CPR is an emergency procedure that can restart a person's heartbeat and breathing if one or both are stopped.