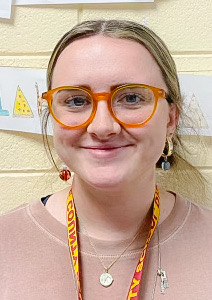 Although she was discouraged to become an educator, first year teacher Kailey Holland decided not to listen to her parents. 
   When Holland was child her mom tout and her mother would always say don't be a teacher. As for high school, her teachers would say that she would be a good teacher one day. 
   As she went to college, she went to be a lawyer because her family would say do something that you are smart for. Once she started college, she began to realize that law school was not for her. 
   While she attended William Carey University she worked at the Hattiesburg Zoo as an assistant zookeeper. 
    She managed the High Ropes Adventure Course, which is an obstacle course that has multiple levels where one is  hooked in with a harness and sling line. She was even a front desk receptionist and helped with all the gift shop markets.
    She worked there in her freshman year at William Carey. She did not know that she wanted to teach in any capacity until her sophomore year. She did not decide to teach at a grade school level until the end of her senior year when the Alternate Route Program at William Carey fell in her lap.
   Holland was not allowed to begin student teaching at any grade level so she was an assistant for the Arts and Letters Building within the English department.
   After that, she was a long-term sub for a former GCHS teacher at the end of last school year. While subbing, she was able to teach English I and II. 
  "Being a substitute teacher helped get my feet wet for teaching." Holland said
   Holland accepted a teaching position, after an opening came up at the end of school, where she is now teaching all English I classes.