Multi-Sport Athletes Become Well-Rounded Students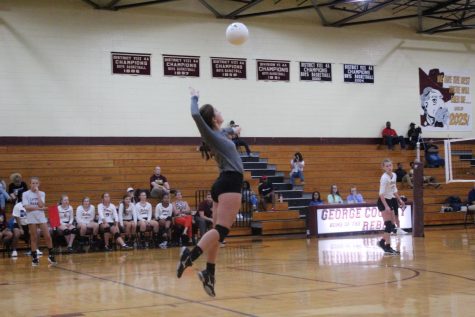 Many students around George County High School play just one sport, but not very many play multiple sports throughout the year.
   Throughout the school year, there are several sports seasons, most of them intersect with one another. Senior Susie LeBert plays three sports throughout the year: volleyball, soccer and softball.
   LeBert has played multiple sports all throughout high school. She feels that playing multiple sports helped in her college recruitment.
   "Playing three sports really helped with scouting because I think that colleges were more attracted to me because I was always busy and I stayed in shape," LeBert said.
   On Wednesday, November 19, LeBert signed a softball scholarship to William Carey University. When she gets to college, she will be focused strictly on school and softball.
   Sophomore Jayce Pater plays five sports: cross country, football, soccer, tennis and track. 
   "I love the game day atmosphere. The excitement from the fans and my teammates just gets me pumped up," Pater said.
   Pater spends most of his time practicing for his sports. He spends 5th block at soccer during season, and during track season, practices track. He practices tennis after school, during season. He finds time to do his school work during school hours.
   Freshman Kyleigh Passeau also plays volleyball, soccer and softball. Out of all three sports, Passeau feels she is better at volleyball.
   "I'd have to say I'm better at volleyball because I understand it better," Passeau said.
   Passeau plays multiple sports because she enjoys them and it keeps her busy, as well as Pater and LeBert. 
   "Playing multiple has really benefited me, and I believe it can benefit others as well," Pater said.