Student Council Sponsors Fall Blood Drive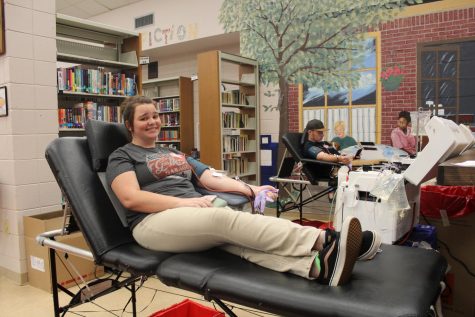 The Red Cross Blood Drive received a donation of 76 pints of blood from citizens and students of George County.
   "Even people from the public came to the school and donated blood."
   Eva LeBert felt that the blood drive had a good turnout with the citizens and students that were able to give blood. With 102 people signing up to give blood, not all were able to give blood due to various circumstances. 
   Student Council members helped with different tasks throughout the event. Freshman Student Council Representative, Kyleigh Passeau, volunteered at her first blood drive. As a volunteer at the blood drive she helped pass out drinks to individuals as they finished giving blood. 
   "Next blood drive, my goal would be to get more involved." says Passeau.
   Junior Chance Wuier, second time donor, will continue to give blood because he knows how he is saving the lives of those in need. 
   "My experience giving blood both times was relaxing" said Wuier.
   Save lives and donate at the next blood drive in the library at the high school on February 4, 2020.