High school is hit by Hurricane Zeta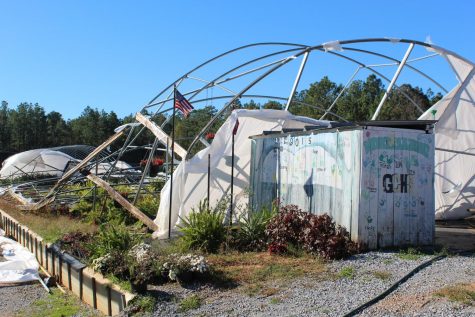 Hurricane Zeta hit the Southern region of the US. Many were not prepared for the storm. 
   There was a lot of damage across the state and the county. Power outages were abundant across the district. Structural damage was also a big issue with schools and homes. 
   About 60 percent of students were absent the Wednesday they were to come back. Due to power outages they were not able to do things like wash clothes or get on Google Meet. 
   The school has offered to anyone who needs it to absolutely come to an administrator to receive aid.
   The athletic facilities had the most damage on campus. The back baseball field fence was destroyed.  Softball field bleachers were overturned. 
  The school is financially covered by the insurance company so the cost will go down according to the principle.
   "It'll probably be a pretty good little price. I'm not sure what number," Sid Taylor said. 
   However, the athletic areas were not the only damages surveyed. The horticulture greenhouses completely collapsed. 
   "I was sitting out there at about 9:15 when it collapsed. There was a gust in excess of 100mph. They folded like a pancake," Rick McMullan said. 
  Due to the unexpected strength of Zeta, McMullan and his class have to  renovate all over again. They were told before then to do no work so the insurance company could take their pictures and record the damage. After that they started deconstructing the damaged greenhouses and salvaging as many plants as they could. 
   Since the storm there has been a lot of outside damage that horticulture has to clean up.  Freshman Allie Burgess says that they haven't had much book work because they've been too busy outside. 
   Usually there is a fall/winter  session of food and plant catalogs. McMullen states that they will not be affected drastically because at this time of year they do not have that much to sell. 
   "The wind beat them up some, but they survived. I actually sold four flats this morning."
   Winter, according to McMullan, is their most relaxed time for their sales. 
   Unfortunately, McMullan classes might be a month behind on sales because this is the time they put down seeds. With no place to put them, they have to wait until the damage is clear and the greenhouses are back up. 
   "I'm 61 years old this year," McMullan said, "and I've been through a lot of stuff in the nursery business in the last 40 years when I had my nursery and teaching here, and I've never seen a year where so many things happen. We won't even know what to remember this year."
    Like McMullan said, "Murphy's Law has ruled…anything that could happen has happened.."