Cowart takes over as tennis coach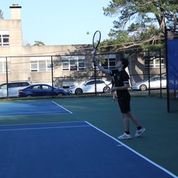 After taking over as tennis coach, Murray Cowart is currently preparing his team for the upcoming season. 
   "Right now getting together, going through fundamentals and basics," Cowart said.
   The teams first match will be February 25 at East Central. 
   Cowart's main goal of the season is to win, but he will focus primarily on building the program and helping the players improve. 
   "What we want to do is try to get some of our doubles players into the state tournament and hopefully we get some of our singles as well," Cowart said.
   The team consists of seven boys and eleven girls. Five of these players are returning from last season. 
   Cowart is looking forward to being a part of this program and helping it expand. He is very familiar with the sport of tennis. He previously coached at the Mobile Country Club and makes an effort to play as frequently as he can. 
   We want to wish the tennis team the best of luck this season.