Married couples share Valentine activities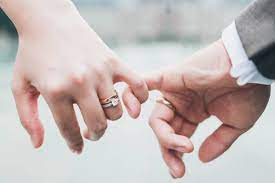 Valentine's Day is a special day for all couples, but it may be a little different for couples who have been doing it for decades. Some of our faculty members and their spouses gave us an inside look on their Valentine's Day. 
   Students, get your pen and paper and take some notes from these professionals. 
   Married for 30 years, Librarian Kim Ray and Coach James Ray share a little about their expectations on Valentine's Day. 
   "I think it is really important to know your partner's love language. When you are thinking about gifts…. I like acts of service, so a perfect Valentine's Day for me would be something like cleaning out the garage, but he did just install a new dishwasher so I'll let that count. As long as there's a steak involved he's happy. The best thing he ever did for me would be leaving little notes all around the school. They did not cost any money, just handwritten notes, and that was so sweet," Mrs. Ray said.
   Mrs. Ray knows what to feed Coach Ray on Valentine's Day: steak. 
   "Go out to eat steak. She knows that's my favorite. I'd buy her the world, but we really don't exchange gifts for Valentine's like I said, we go out to eat. You get to celebrate the love of your life, I think that's what the day is for. We've always tried to make that special day," Coach Ray said.
   Health Science teacher Brandy Glass and Law and Public safety teacher John Glass have been married for 25 years and going on strong. Let's look into their Valentine's Day.
  "If we could do something at home and it's quiet, it's a good Valentine's gift. You just remember who you married and why you did that, but for me and Mrs. Glass we try to do that more than just Valentine's Day. My favorite is just being able to go out and have a nice dinner," Mr. Glass said. 
   It is obvious that Mr. and Mrs. Glass love to spend time with each other.
   "I would probably want a date night with him, or we would go to Lowes and get something that we could build together. It's a day to celebrate love and all that, and we have done that for 25 years, so we try to do it everyday. We just like to hang out with each other, we're best buds," Mrs. Glass said. 
   Since Valentine's Day is on its way, take what you have learned from these married couples and try it out!