Long Attends Facebook Seminar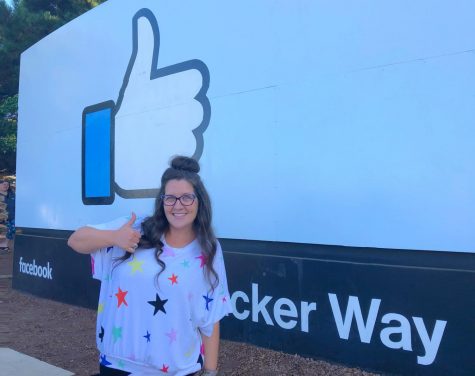 While students and faculty at George County High School were returning from summer break, AP Computer Science teacher Stephanie Long sat at Facebook headquarters in San Francisco, California. Long was one of the computer science teachers chosen nationwide to attend seminars given by programmers who work at Facebook HQ.
   Long first heard about this all-expense paid trip through an email from the CollegeBoard AP Computer Science Teacher Summit. To qualify, she wrote an essay explaining why she thought she should attend. Out of the 300 teachers who submitted essays, only 100 people were selected. After being chosen, Long flew to San Francisco and met teachers from all over the country to share ideas for teaching the computer science class. 
   While there, Long gained insight on how to improve her computer science class and was able to visit places throughout the city. "It was fun to learn during the day and explore the city at night," Long said.
   Every day Long was driven to the headquarters on a Facebook bus, as non-employees are not permitted to drive on the property. She attended seminars hosted by Facebook employees and heard how they entered the field of computer science. The employees also shared tips about teaching the subject. At night, Long attended networking meals where she and the other teachers played games and participated in icebreakers to get to know each other better.
   While there, Long also heard a professor from Duke University speak. 
   "It was all so good, but I have to say the facial recognition from Duke was my favorite," she said.
   The professor introduced the teachers to cutting edge facial recognition technology that was able to identify each teacher using a picture that had been previously uploaded. The professor also suggested tips to improve recruitment in the class and generate interest. 
   One of the main ideas expressed to Long during the seminars is that this computer science class is open to everyone.She hopes to bring this message back to GCHS with her and encourage more people to take this class.
   "I want to show my students that everyone can take this class – it's not just for a specific type of person," Long said.
     While she was on the trip, Long was also able to sightsee and visit places throughout the city. One night she rode on a cable car and viewed Lombard Street, the curviest street in the world. At Pier 39, she spotted a group of sea lions. She was even able to locate Alcatraz Prison from a distance.
   "There was so much fun stuff that we got to do aside from just learning," she said.
   Long felt that this trip not only gave her new ideas to improve her class, but the opportunity also opened her to new experiences within the city.
   "It was like a grown up field trip. I was able to learn and have a lot of fun," Long said.